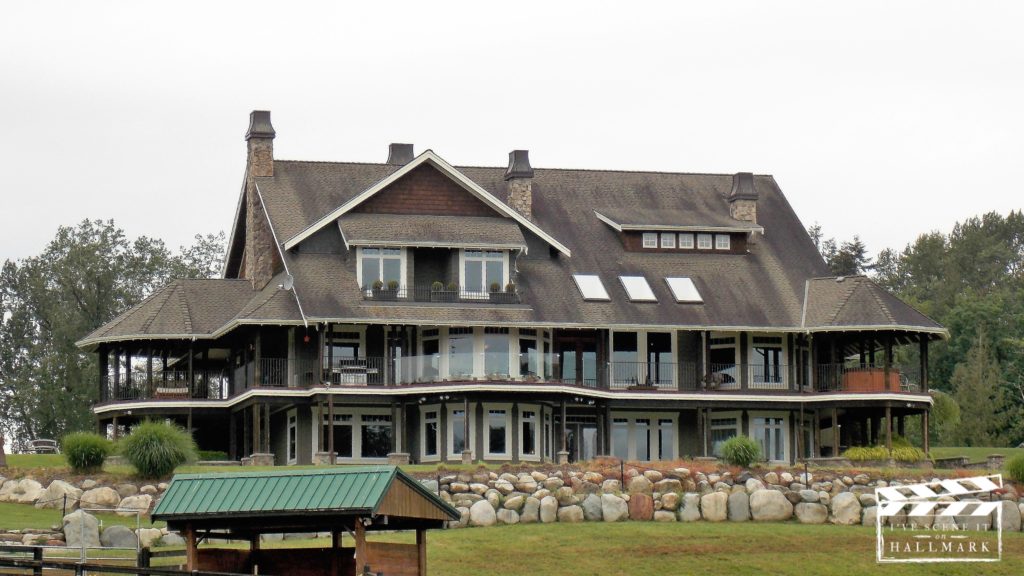 Hello January!  I don't know about you but with the busyness of December behind us, life is much slower and quieter these days.  We are getting our fair share of rain here in the PNW and I hear parts of this country are down right chilly!  I've been hunkered down with a cough and cold since my time in Texas.  What's a girl to do but sit by the fire under a warm blanket and watch some Hallmark.  And that is exactly what I've been doing.  And of course researching, which is always so much fun!!!  And while I'm still catching up on all those new Christmas movies (yes, STILL), I have also been watching re-runs of old favorites like last year's Moonlight in Vermont. This one aired in April during Hallmark's Spring Fling.   From Hallmark:
 After fast-paced New York City high-end real estate broker Fiona Rangely (Lacey Chabert) gets dumped by her boyfriend, she escapes to her family's quaint Vermont Inn for a few days to slow down and evaluate her life. When her ex-boyfriend Nate shows up at the Inn with a brand new girlfriend, Fiona quickly devises a plan to win him back: pretend the handsome and very laid- back head chef Derek (Carlo Marks) is her new boyfriend! Much to the surprise of Derek –and to Fiona herself– in pretending to be in love, she realizes that she's been thrown a curveball: sometimes the best things in life are worth the wait.  
 It's working title was Curveball and filming took place in Langley, BC in early January 2017.  The story was cute and the casting was great.  I mean, how can you go wrong with anything starring Lacey Chabert?  My fave scene in the movie takes place at the Maple Faire dance.  As the couple is swaying to the music, Derek sings "Moonlight in Vermont" to Finoa…..swoon!  But what caught my eye was the house that plays the inn!!!  What a gorgeous property and I was excited to track it down and take some photos.  Of course it looks even lovelier covered in snow, as it appeared on film, but regardless, it is beautiful to see in person.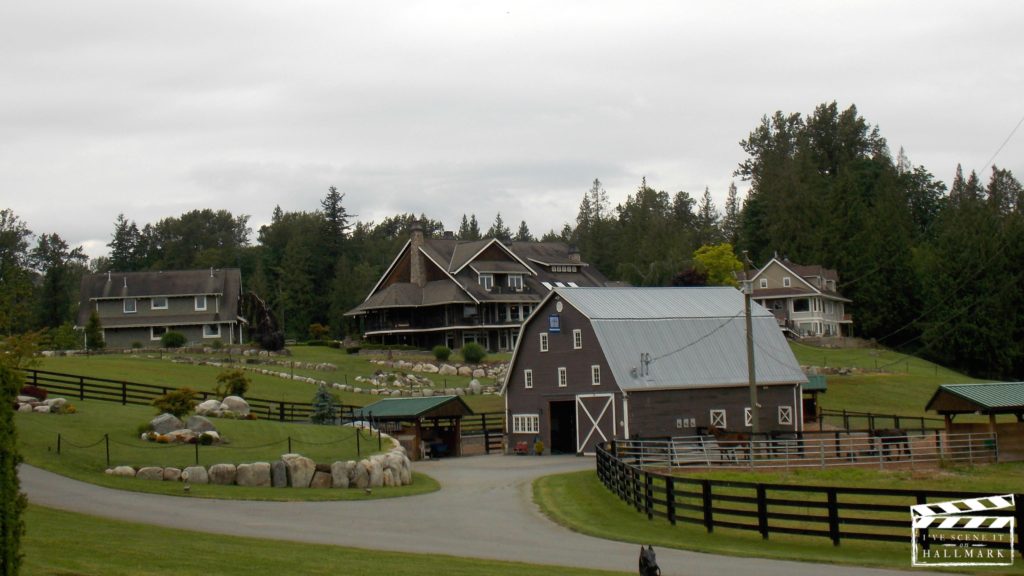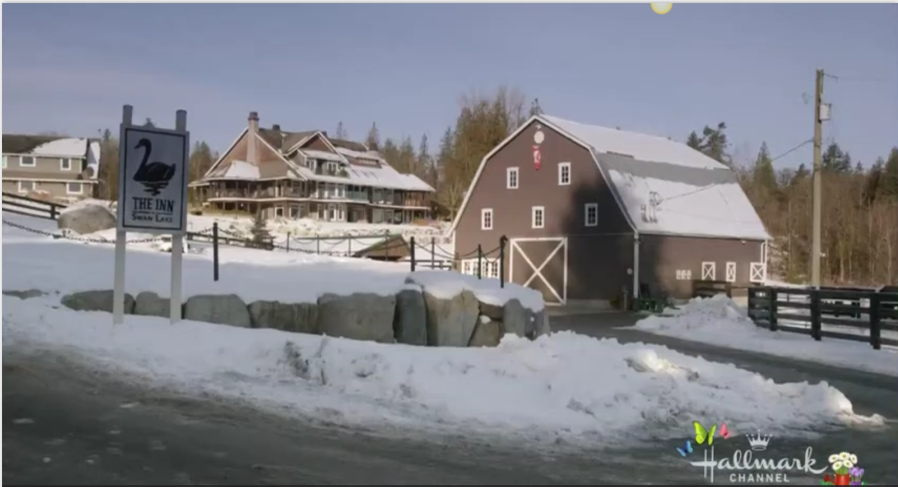 I wasn't surprised to find this location in Langley, what I often refer to as the Hallmark capital of filming.   Langley has it all; busy shopping areas and hotels, quieter neighborhoods like Murrayville with mom & pop storefronts, but it is also rich with farmland.  I've scene mansions (like Mr. Darcy's) and craftsman bungalows, and everything in between.  And I think that is what makes Langley so desirable for filming.  You can find any type of property you are looking for and the cameras love it!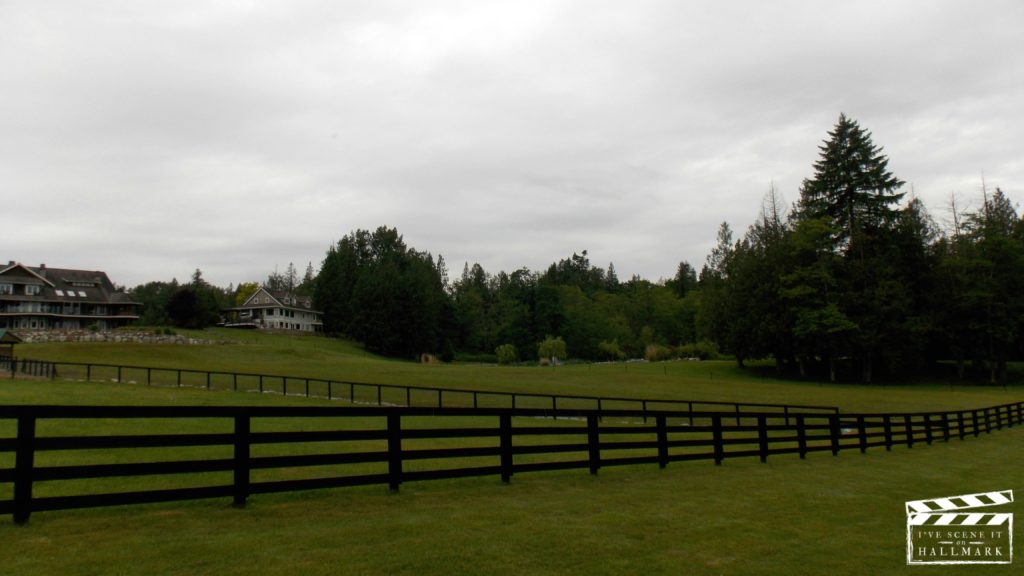 I'm not sure if I've mentioned this before but there is no Zillow in Canada.  But sometimes I get lucky and will run across a former listing and find information out that way.  This time I couldn't find anything but here is what I saw.  I would guess this is a 10+ acre lot.  There is a huge, picture-perfect barn and 2 homes on this sprawling property, led to by one very long driveway.  Speaking of which, I love a circular driveway, and this splits off into one in front of the house that plays the inn.  The aerial photo below shows just how expansive the property is.  And did you see that rooftop on the property next door?  Look in the upper right hand corner…..it's the Canadian flag…..SO cute!!!
The home itself is enormous as you can see in my photos.  Of course, I only was able to capture photos from the back of it but check it out…. it's pretty amazing, offering plenty of covered deck space, a hot tub area, an outdoor fireplace, and lots of windows, all on multiple levels!  I wish I could have gone inside for a tour.  The place is beautiful in the movie and I'd love to have a look around that kitchen!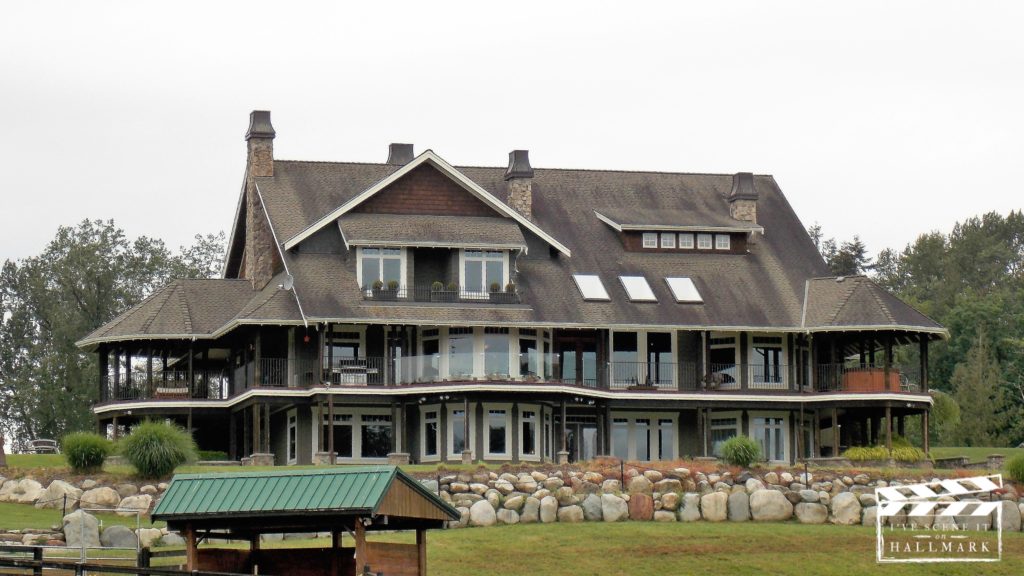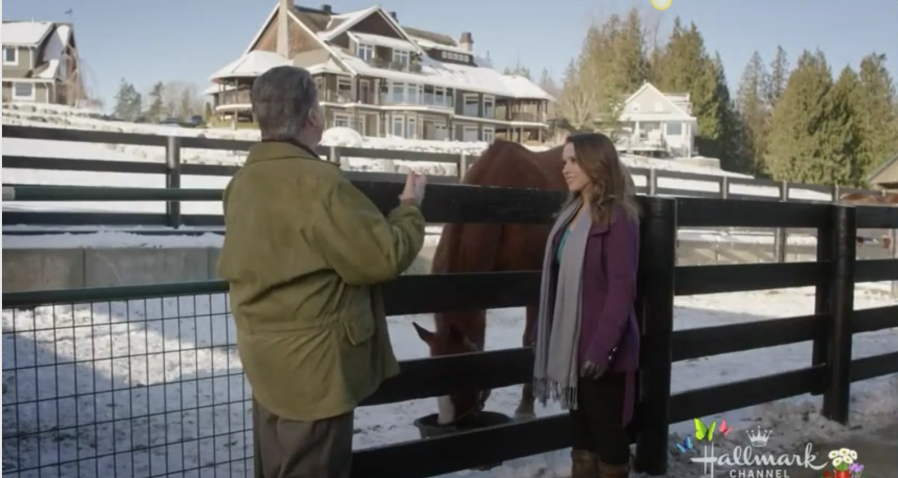 I have scene this location in another Hallmark movie, Lori Laughlin's Garage Sale Mysteries.  In the movie Art of Murder, the garage to the right of the main house is the place where the murder takes place.  I love that they used the real homeowners flag on the garage…..you see it in both movies.  The standing lantern was likely added for Moonlight in Vermont and it really does the job.  It looks perfect in front of the inn!
EDIT: Deb L. from the Facebook group Fans of Hallmark Channel, Hallmark Movies & Mysteries, Hallmark Drama commented on my post this morning, tipping me off that this is also the location of Bramble House from A Bramble House Christmas.  THANK YOU Deb L!!!  I have added a few Bramble screen shots to the post.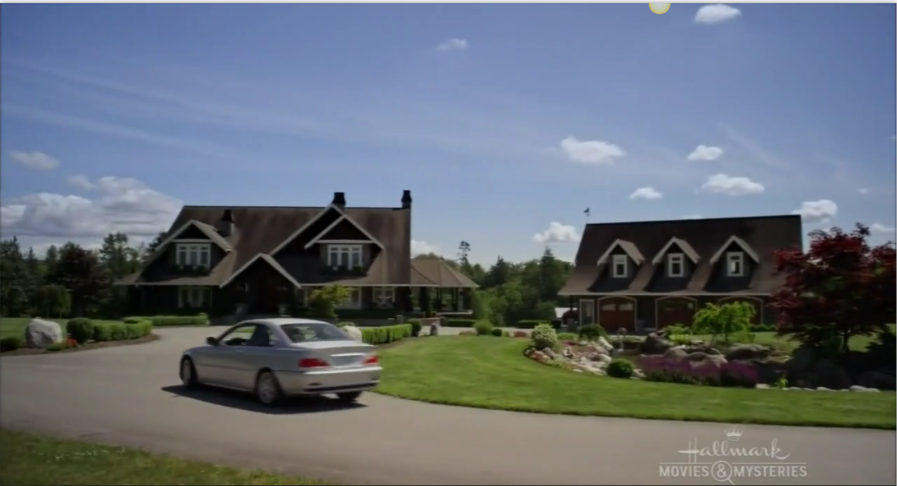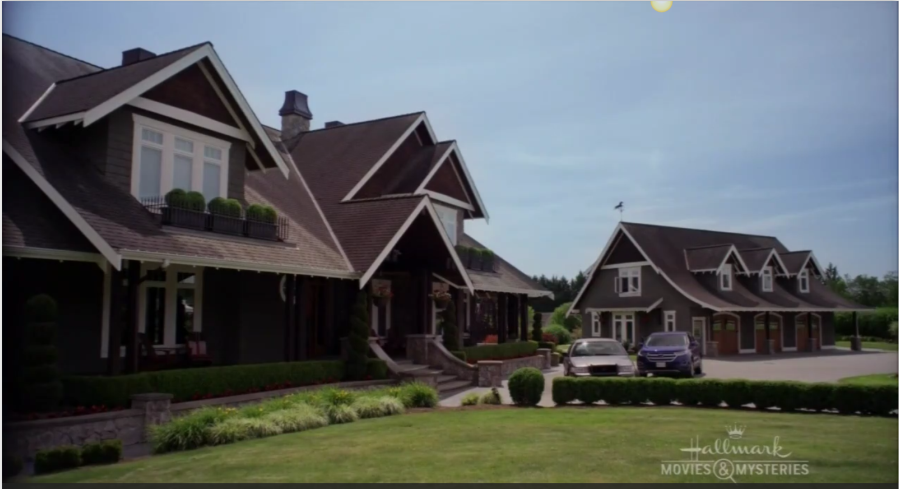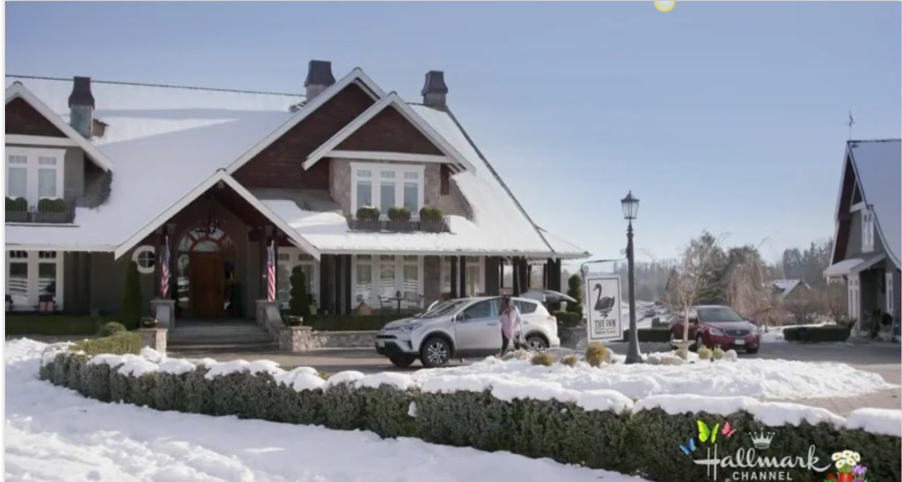 The big house is also used in Art of Murder, although there was not much of the interior shown.  But, there was enough to recognize it from both movies.
To read about another location used in Moonlight in Vermont, check out my story on Porter's Bistro Coffee & Tea House, here.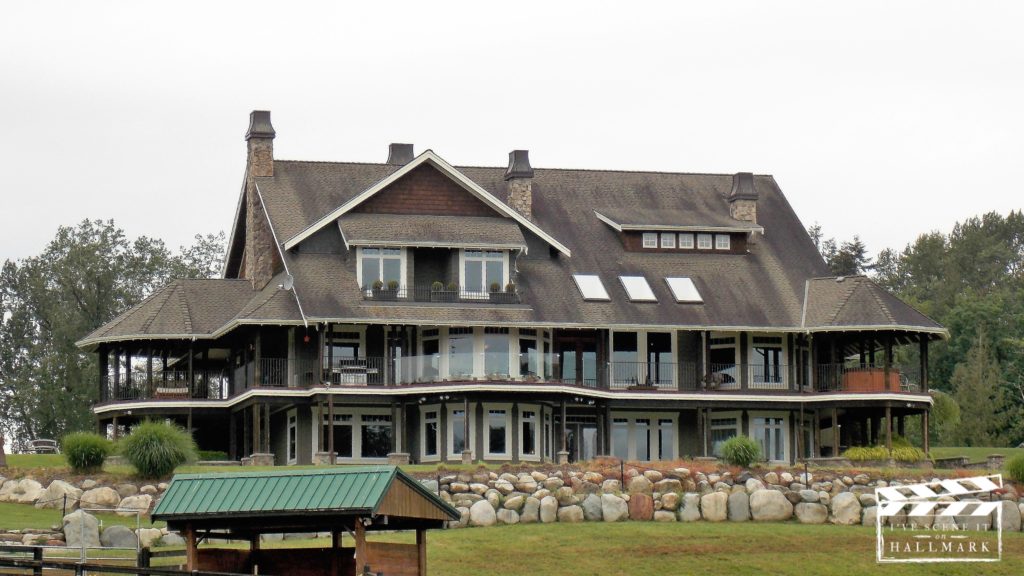 Thank you so much for stopping by the blog today.  I appreciate your support.  I will be back next week with another new Hallmark location.  In the meantime, are you watching the Winterfest movies?  I am, but I can't wait for the Valentine movies!!!  ♥