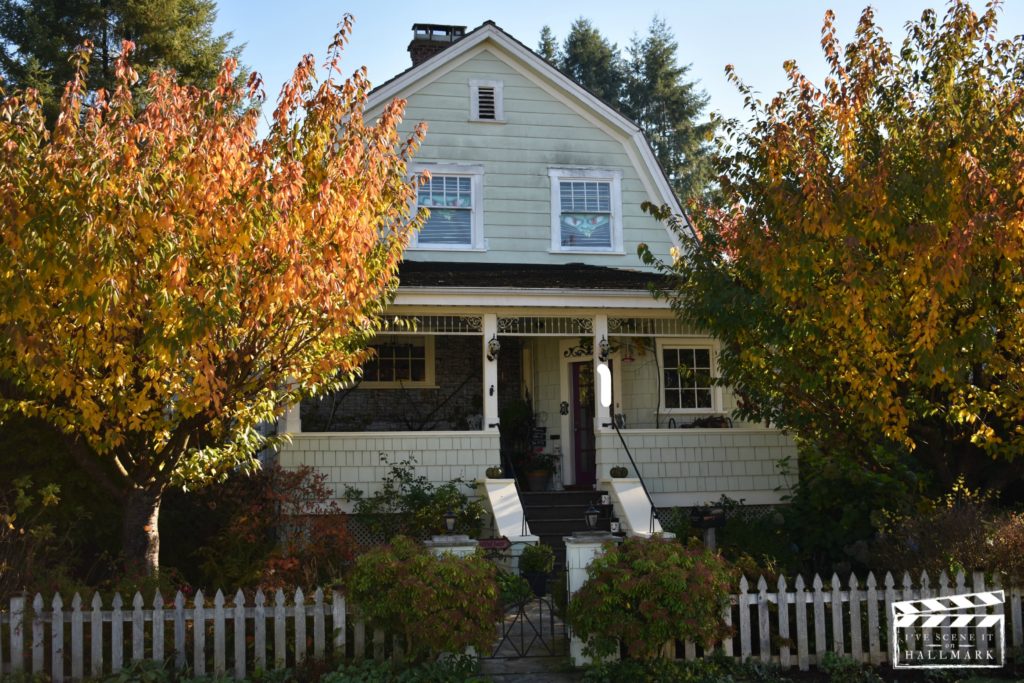 Like a fool I went and stayed too long,
Now I'm wondering if your love's still strong,
Oo baby, here I am,
Signed, sealed delivered, I'm yours………..Lyrics by Stevie Wonder
When I began this blog a couple months ago, I had a comment from Sandy mentioning her interest in Signed, Sealed, Delivered (SSD) locations.  Sandy's comment stuck with me and it gave me a renewed passion for tracking down something SSD related.  This post is dedicated to you Sandy!  Thank you for challenging me to keep at it and to not give up.
I have been a fan of SSD since the very start.  Written by Martha Williamson of Touched by an Angel fame, it all began with a two-hour movie in 2013.  The movie turned into a weekly series in 2014.  For reasons unknown, the weekly series then morphed into a series of movies that aired a few times each year.  The bad news is, SSD is no longer a weekly show.  The FABulous news is, we still get to watch the Postables – our beloved Oliver, Shane, Rita, and Norman – continue their work at the Dead Letter Office (DLO) of the USPS and follow their evolving relationships.
The one thing I've always loved about this series is the way they slowly paired these couples.  Rather than just throwing each couple together from the start, they developed each of the characters as individuals and actually showed their friendships grow over time into something bigger.  I say brilliant!  We don't get to see that very often, and I have found it to be very refreshing.  As fans of the series have learned, these are deeply moving characters with complex, emotional pasts.  Like you, I have loved getting to know each of them.
Hallmark has been treating us to 2-3 new SSD movie's each year.  According to Kristen Booth, who plays Shane, we can expect more to come in 2018.  Kristen recently tweeted that the next installment, titled The Road Less Traveled, is in the can and will air in early 2018.  Plans are already underway to begin shooting another installment in the new year.  Can you say Welcome 2018?  I can hardly wait!
Over the years, I haven't had much success with locating any SSD locations.  Sure, the movies are all filmed in the Vancouver area, but I hadn't really found anything.  After reader Sandy's comment, I was inspired.  Several weeks ago, there was an SSD movie marathon and I recorded every. single. one. I re-watched them all with my trusty pen and notebook in one hand and the remote in the other.  And just to make sure I was doing my due diligence, I viewed them all from our big screen TV where I could focus on the details.  During my binge watching, Shane's house began to show up and I became enamored with it.  Sometimes, locations are just like that and one will grab me.  By the time I'd finished all of the movies, I was obsessed determined to find her house.
I wish I could tell you it happened immediately, but that was not the case.  Although I have found some locations quickly and without any real effort, this one proved a bit more difficult.  I put it on the back burner but never walked away from it entirely.  Then, it happened.  I found the house!  Actually, my husband found it for me.  Trust me, he isn't a fan of film locations at all, but as he says, he is a big fan of me.  (Aw, thanks baby!)  And so, without further ado, I bring you Shane's house!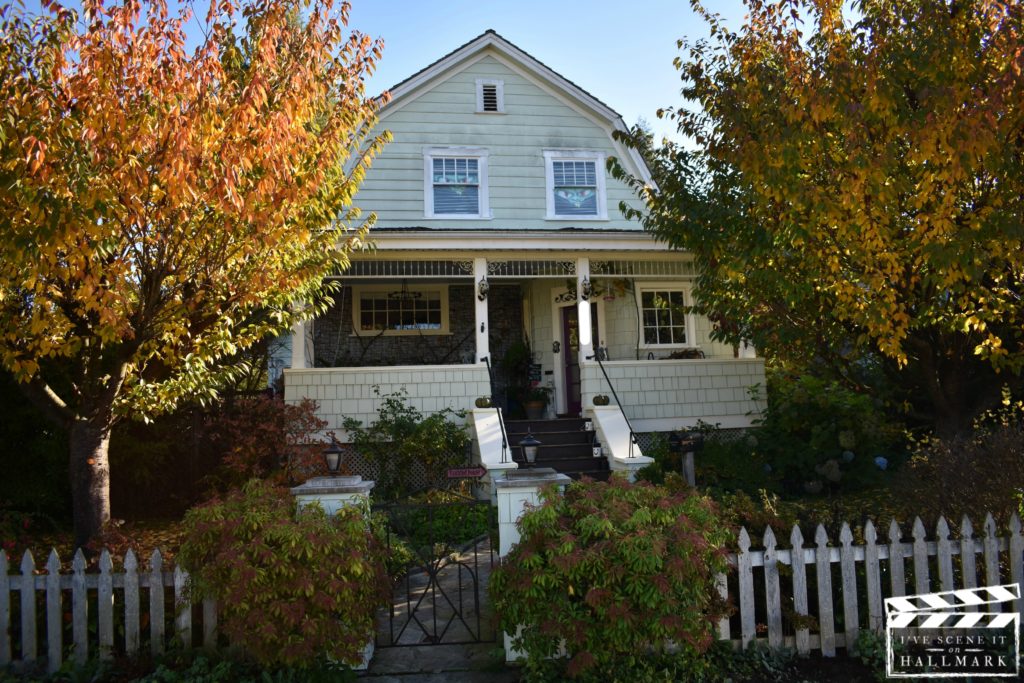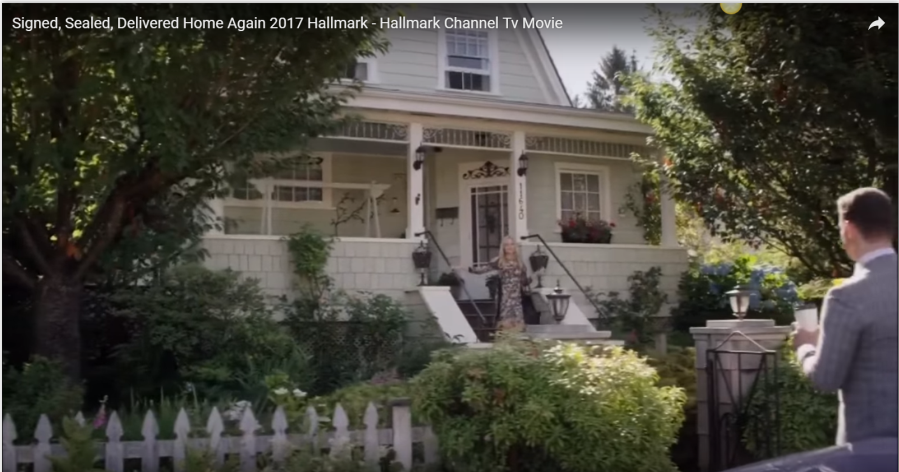 On a quiet residential street in the city of Maple Ridge sits the two-story barn-style home that we know as Shane's house.  I recognized it immediately, despite the Halloween décor in the yard and on the front exterior and windows.  As you can see from the photos, I arrived on a beautiful day, made complete with fall foliage.  Just look at those harvest colors!  According to Property Insight, the home has 3 bedrooms, 2 baths and just over 1800 square feet.  It is listed as 105 years old.  I think that is kind of amazing, don't you?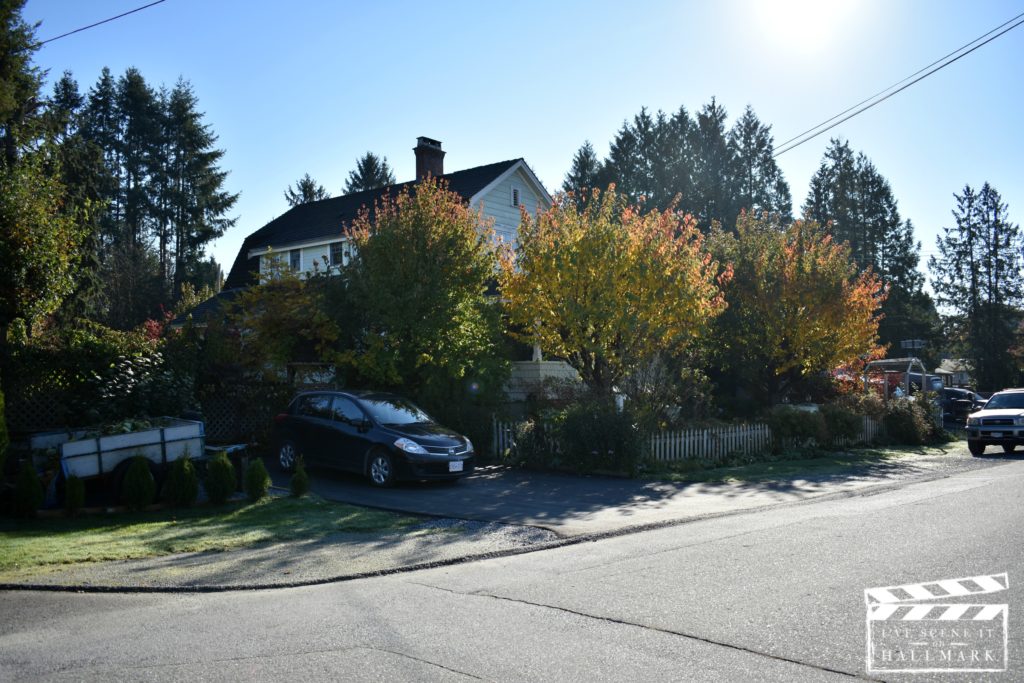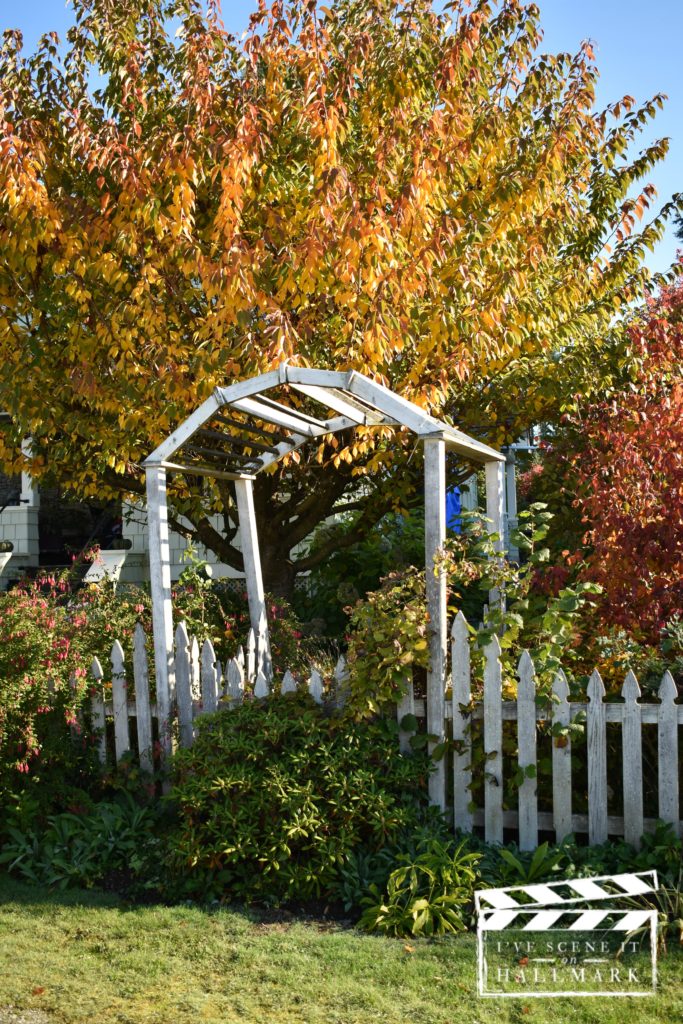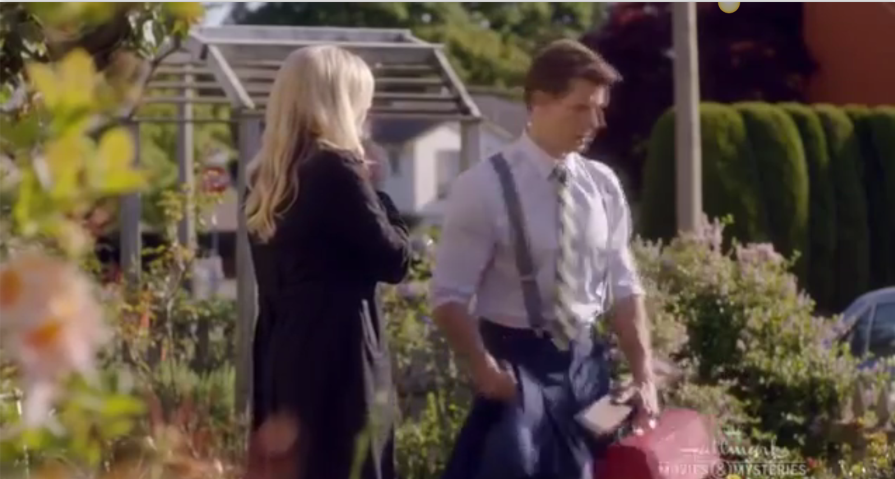 The house is really cute in person, although I was quite surprised to find that it is in dire need of a fresh paint job.  I LOVED seeing the arbor out front, just like they show on SSD.  My favorite part of this place has got to be the cobbled path that leads to the little black iron gate.  It is utterly charming!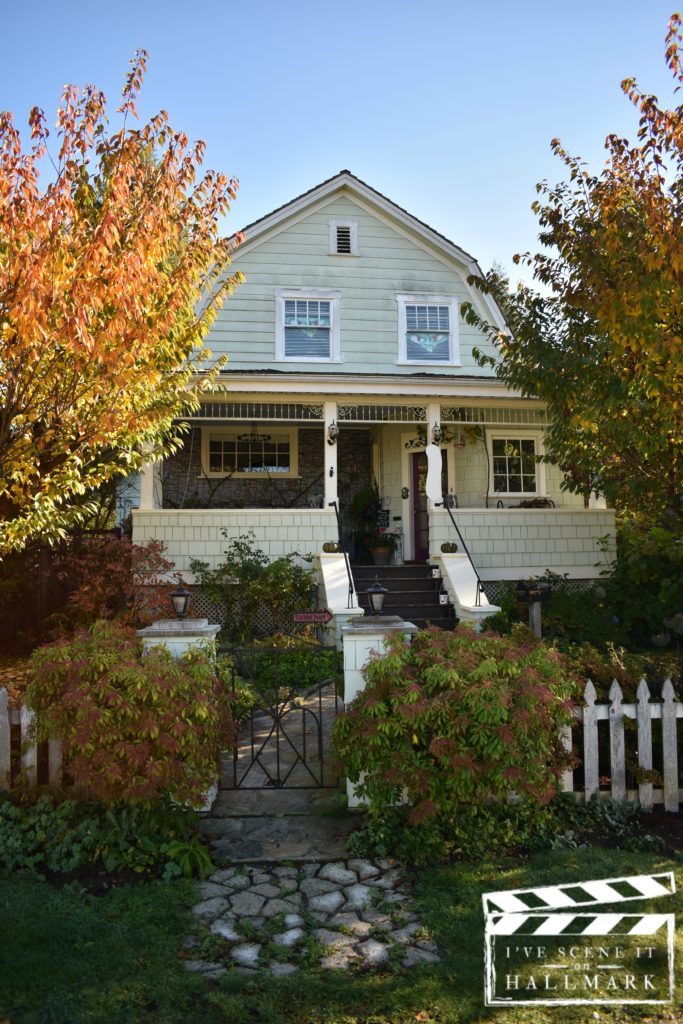 I was fixated on the porch because we see so much of it on air.  I had hoped to spy a swing like the one Oliver gave Shane.  It just seems so fitting, and if I lived there, I'd have a swing on that porch for sure!  I am not crazy about the stone wall on the porch.  It really darkens up the area and makes it look much smaller.  I much prefer how it looks on SSD.  I've not been to this home before, so I am uncertain if this is new or if it changes each time they film.  When zooming in on my photos and comparing them to the screen shots, it is very possible that the stone work is new.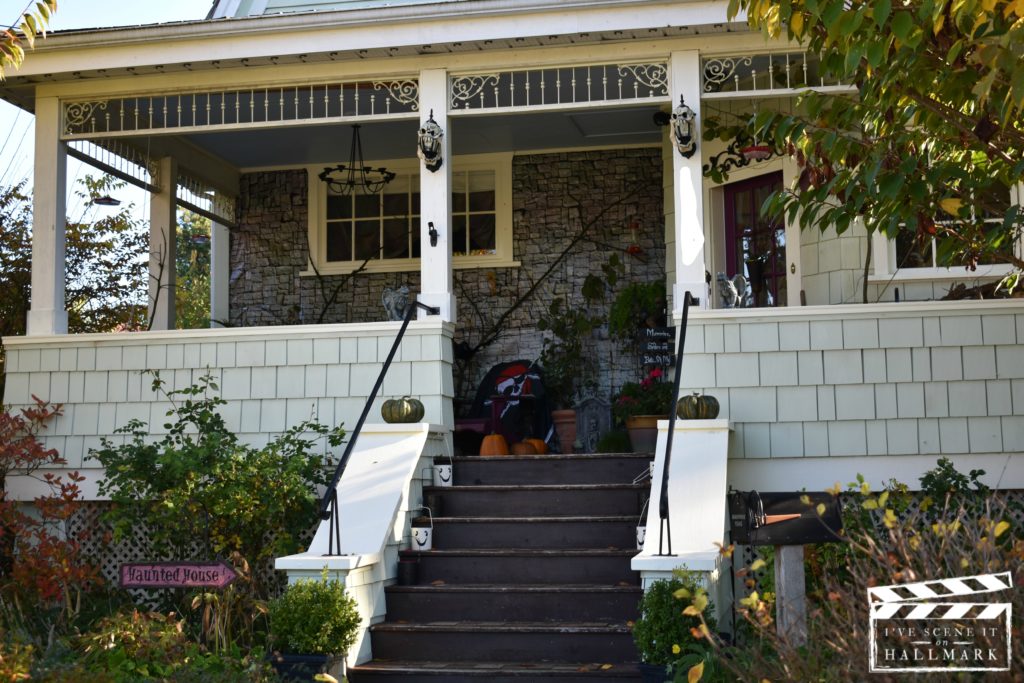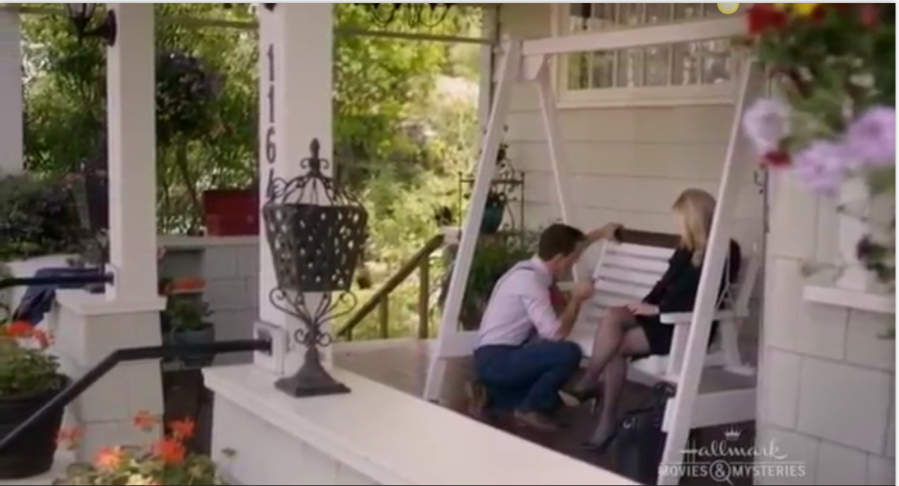 I LOVE the white glass door they install for filming.  The homeowners I've spoken to tell me it is very common for doors to be changed or altered for filming.  The detailed trim and scrolls above the porch really add to the character of this house.  Check out the glass pane front door.  I LOVE the color.  It's the perfect pop!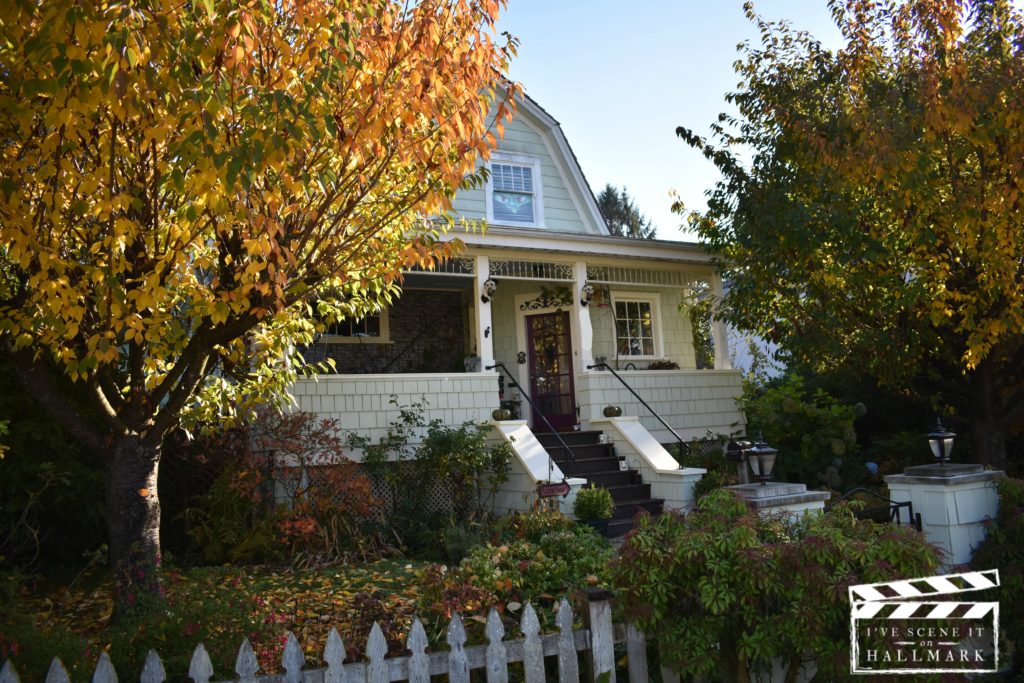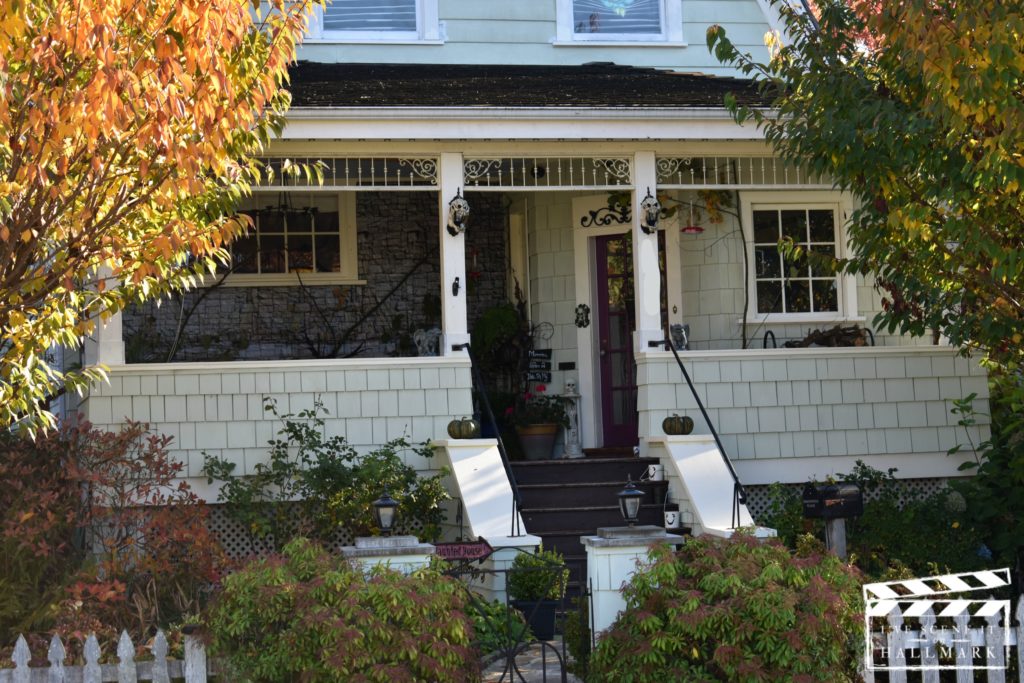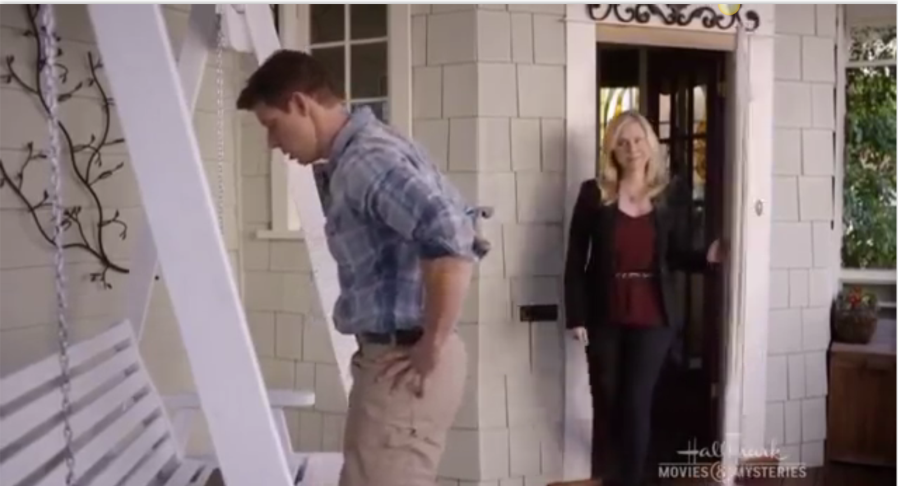 It was really exciting to be standing in front of this home, especially since the porch area appears like it does on-screen (minus that stone wall).  I find myself wanting to come back for another peek – sans Hallowen décor – so I can take in the real look and feel of this home.  I will definitely be stopping by again the next time I'm in Maple Ridge.  Perhaps I will update this post with a few new photos.  Fun fact: I drive past the original AOMH farmhouse every single time I cross the border!
For what I consider to be the most up-to-date and in-depth info on SSD, check out this website here.  Blogger Chandal really seems to know about all things SSD.  Perhaps I should reach out to see if she knows of any SSD locations!  Hmm…  Look for SSD: The Road Less Traveled in early 2018.  BIG thanks to my guy for tracking this one down.  You are THE best!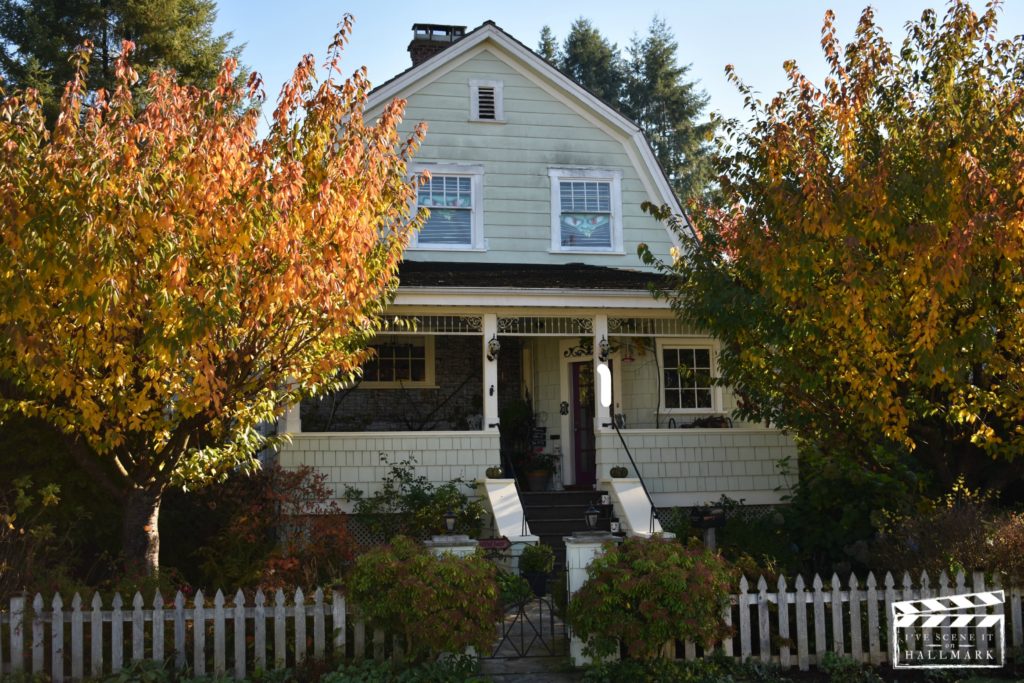 If you haven't already, please be sure to sign up for weekly post notifications to I've Scene It On Hallmark so you don't miss a post!  I am honored to be able to share my experiences with those of you who are unable to visit all of our fave Hallmark film locations.  Thanks for letting me be your guide!
I'll be back next week with another new Hallmark location.  Hint: I have fallen completely "inn" love with this place!  😉  Thanks for stopping by!