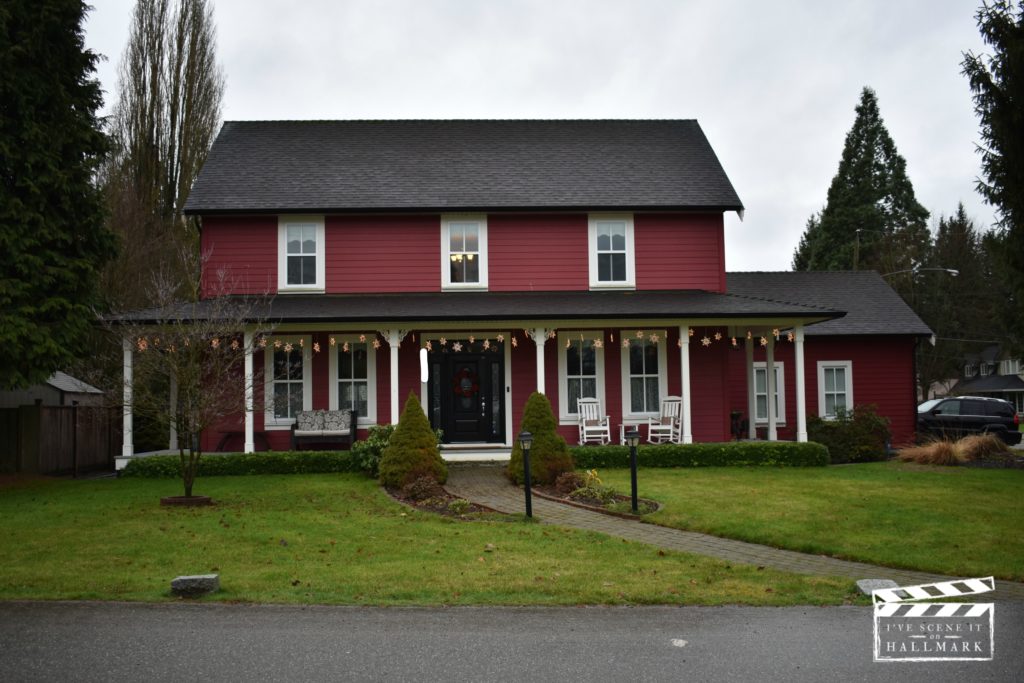 Hi Hallmark fans, I'm back with an all new location this week and along with it, I thought I'd share about the super FUN day I had earlier in the week.  I also wanted to mention that I resigned from my full-time job at the start of 2018.  "Don't be afraid to start over.  It's a chance to rebuild what you want".   For now, I am really enjoying my time off  researching and Hallmarking.  Eventually, I will look for something else, but for right now, I love being able to head north to Canada on a weekday!!!
Due to the busyness of December, our Christmas vacation, and my bout with the crud, I hadn't been up to Canada since the beginning of December!  It was long overdue, so I lined up some interviews, made a wish list of places I wanted to see and photograph, and hit the road.  While I was on my way to a historic Bed & Breakfast to interview the inn keepers, I drove past the circus for the new Aurora Teagarden movies!  It was a very exciting energy I felt knowing Candace and the gang were somewhere close by.
After the B & B, I was able to see the inside of the historic Clayburn Church, the one we saw in Engaging Father Christmas. In addition, I was able to go inside the Clayburn Schoolhouse, where the Real Murders Club meets on the Aurora Teagarden series.  I blogged about this location here but this visit, I was able to actually roam around the inside and take some photos.  VERY cool!  As I mentioned in my original story, there is a museum under the schoolhouse and I was lucky enough to be able to visit there as well.  While doing research for that story, I became interested in the Clayburn Brick Company and the museum has several different bricks on display, which were very cool to see.  They also have a nice model of the area, showing how it looked back in the day.   Fun fact: The cast of Aurora Teagarden Mysteries recently filmed at the schoolhouse.  The cast typically uses the church as an overflow/waiting area for the actors and extras, but the floors had just been refinished and were still drying.  They ended up using the museum as the waiting area during filming!
After my time in Clayburn, I once again passed by the circus for Aurora Teagarden and snapped a couple photos.  The wardrobe trailer was wide open, and I had to take a minute to savor the moment, knowing Aurora's pink coat and her baby blue coat were likely hanging among the many articles of clothing in the trailer before me, that is unless she was wearing one of them.
Next, I headed to Fort Langley, an area I have blogged about many times.  On any given day, you will see film crews set up in this picturesque area, and Tuesday was certainly no exception.  I passed a circus on my way into town and went in search of a parking spot, always tricky to find in the fort.  I parked in front of the church we've scene in many Hallmark movies including At Home in Mitford, Murder She Baked, and Operation Christmas, among others.  (I will be doing a story on this church at some point) From there I walked over to where a film crew was setting up and waited patiently in the cold under my umbrella, for the "talent" to show up.  I felt very determined and hopeful that I would see the star of this popular Hallmark production.
About 30 minutes later, she stepped out of the car and I yelled, "Lori, do you have time for a quick photo?", to which she answered, "Yes!"  And that was all I needed to hear.  After being a fan since the early soap opera days of her life-long career, it was magical to say hi to the one and only Lori Laughlin, aka Abigail of WCTH, Jennifer of Garage Sale Mysteries and Aunt Becky on Full/Fuller House, as well as get a photo with her.  Thanks Lori!!!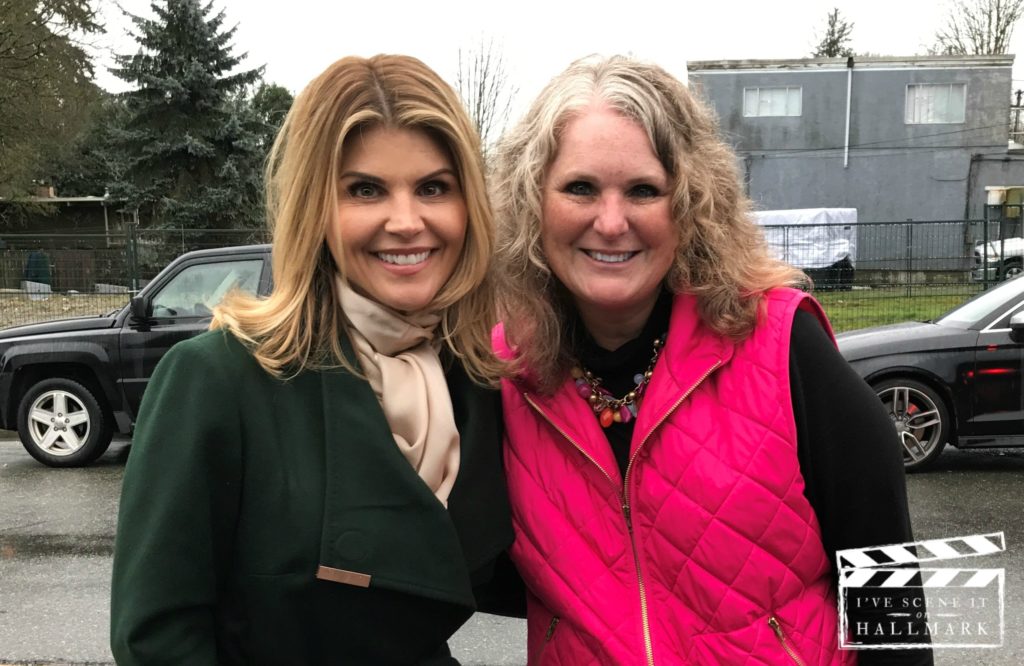 After my photo-op, I figured whatever happened next was just gravy.  I'd had a pretty awesome day interviewing the inn keepers, seeing the schoolhouse and church, discovering the circus, and meeting Lori!  I began to drive around and photograph the houses on my list.  As I've mentioned before, sometimes there is really not much to go on when searching for Hallmark homes.  But last week, I got doubly lucky when I was able to scratch TWO houses off my list!  I had been looking for them for many months and I found both of them on the same day……not bad!  So, as you can imagine, I was very excited to see them in person.  I photographed 6 locations before it became too dark and rainy, including Sarah's childhood home from A Harvest Wedding.  This was one of the easy ones to find.  DISCLAIMER: The screenshots this week are awful!  The movie wasn't available to view anywhere online so I actually had to take photos of my TV screen…not kidding.  Thanks in advance for your understanding.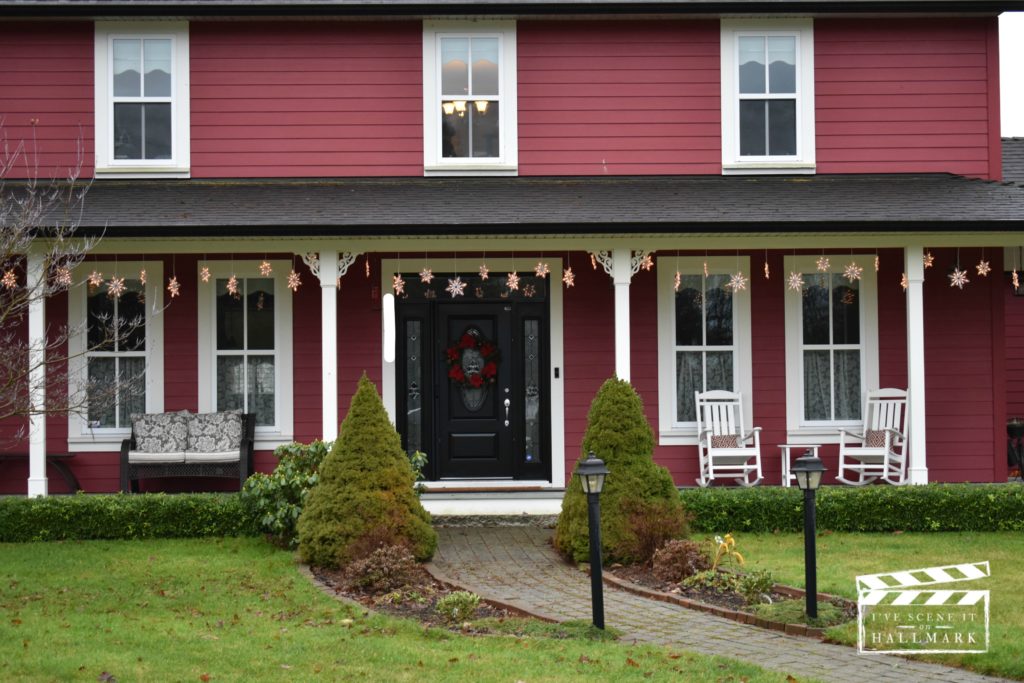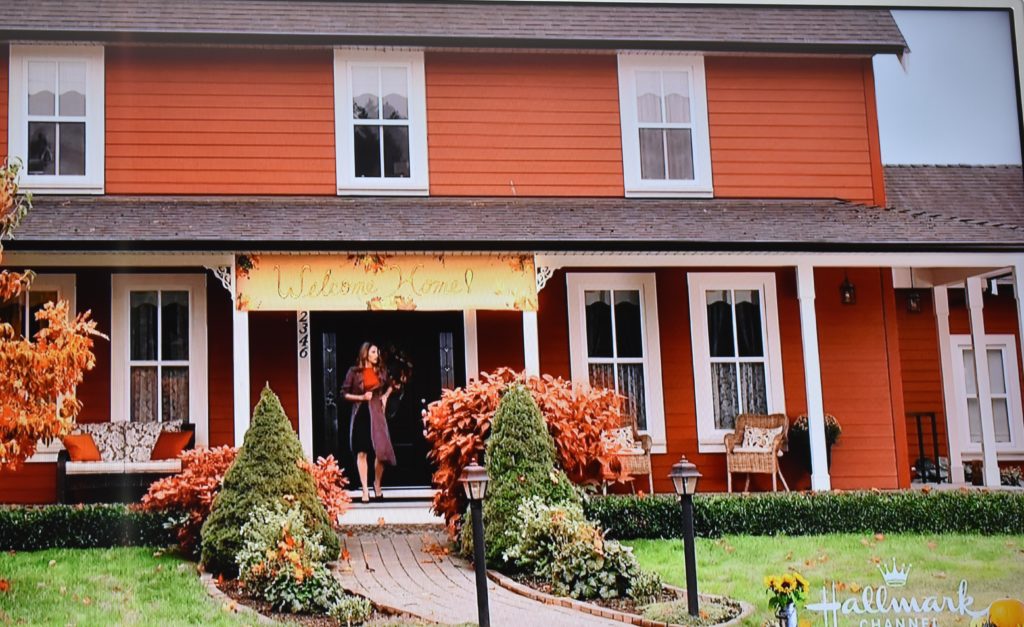 A Harvest Wedding premiered as one of the Fall Harvest movies in 2017 and starred Jill Wagner and Victor Webster.  From Hallmark:
"Sarah Bloom, an up and coming wedding planner in New York, is hired to plan the most anticipated wedding of the season. However, she learns the bride is from Sarah's home town of Williamstown, Massachusetts, and wants her wedding on the family farm, which is now being run by the bride's older brother – who is also Sarah's first love."
When Sarah comes back to her hometown to plan "the wedding of the season", she stays at her childhood home, a barn-red two-story that in real life can be found in Fort Langley.  The exterior shows up throughout the movie and the interior was also used for filming.   The home has 3 bedrooms, 3 baths, and just over 3,000 square feet, according to Property Insight website.  This corner lot dwelling is 11 years old and there is an open field across the street, making access easy for film crews.  Aside from the constant rain, very typical this time of year in the PNW, it was great to finally visit this one in person.  The place looks great; fresh paint with a good looking roof and landscaping.  And of course, I love the large white Cracker Barrel style rockers on the porch.   I'd say it is ready to show up in another film!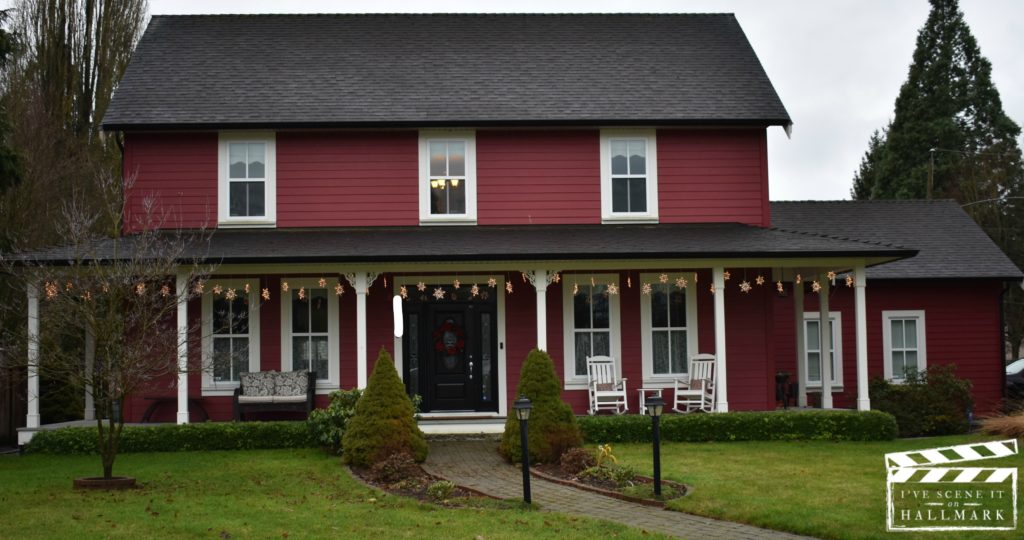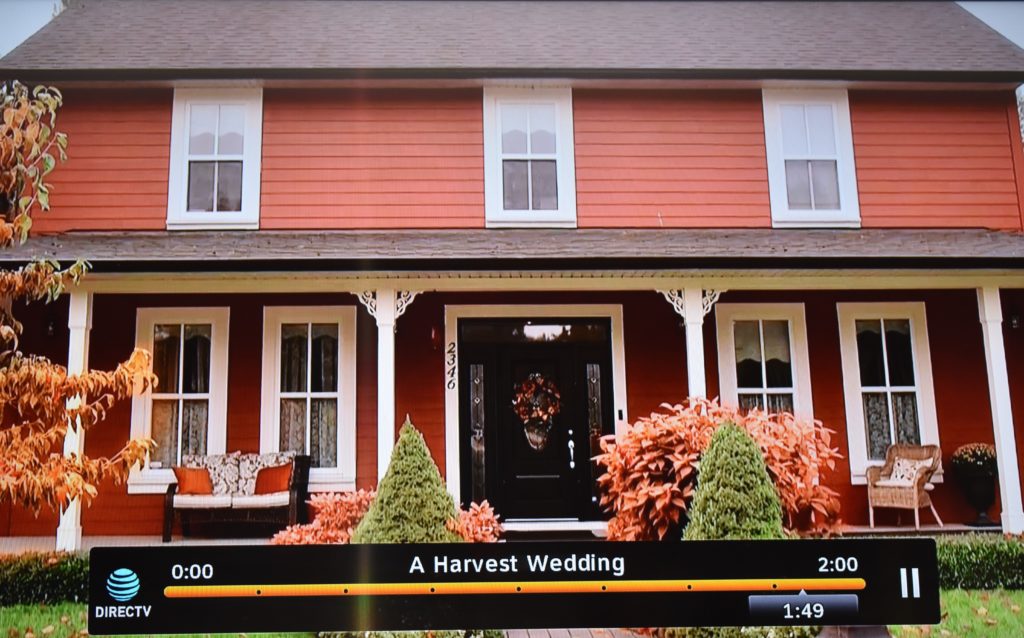 Want to buy a white rocker?  Please consider purchasing from the link below, which helps to support this website.  Thank you!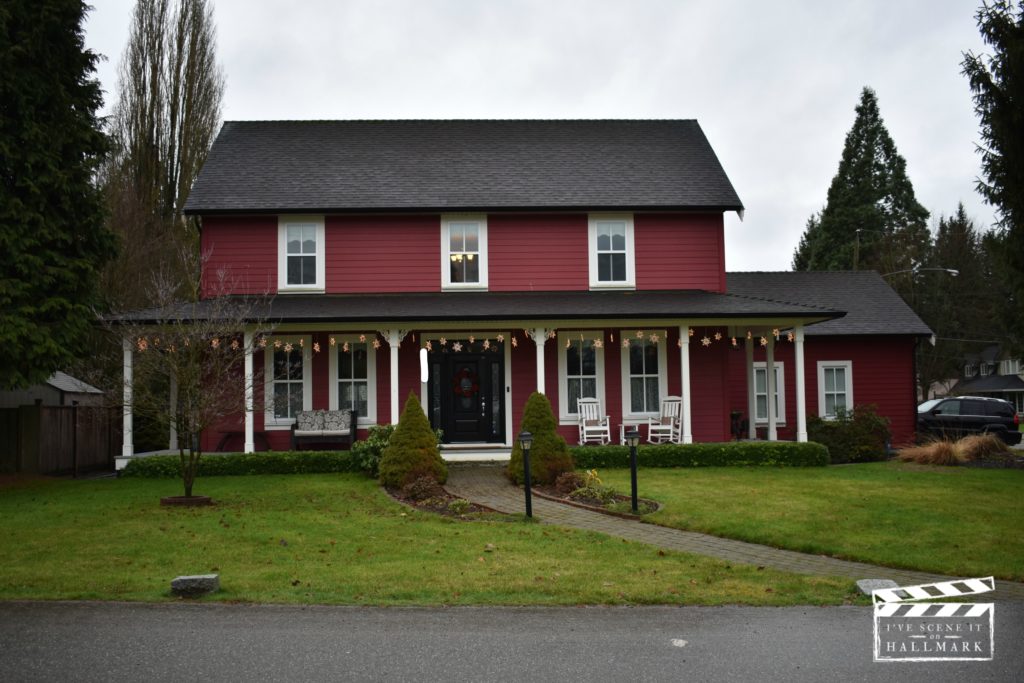 After taking my photos, I stopped to have tea with a friend in the area.  All in all, a most FABulous day!!!  Special thanks to the inn keepers for a great upcoming interview.  I look forward to sharing their B & B with you on the blog.  And special thanks to Lori Laughlin, for giving me a moment of her time and a photo to last forever.  And of course, my thanks to you reader, for your support of this blog.  Have you had a celebrity encounter before?  Share with us who you've met in the comments.   The most famous encounter I've ever had was the time I met Princess Fergie, the Duchess of York.  I will be back next week with an all new Hallmark location.