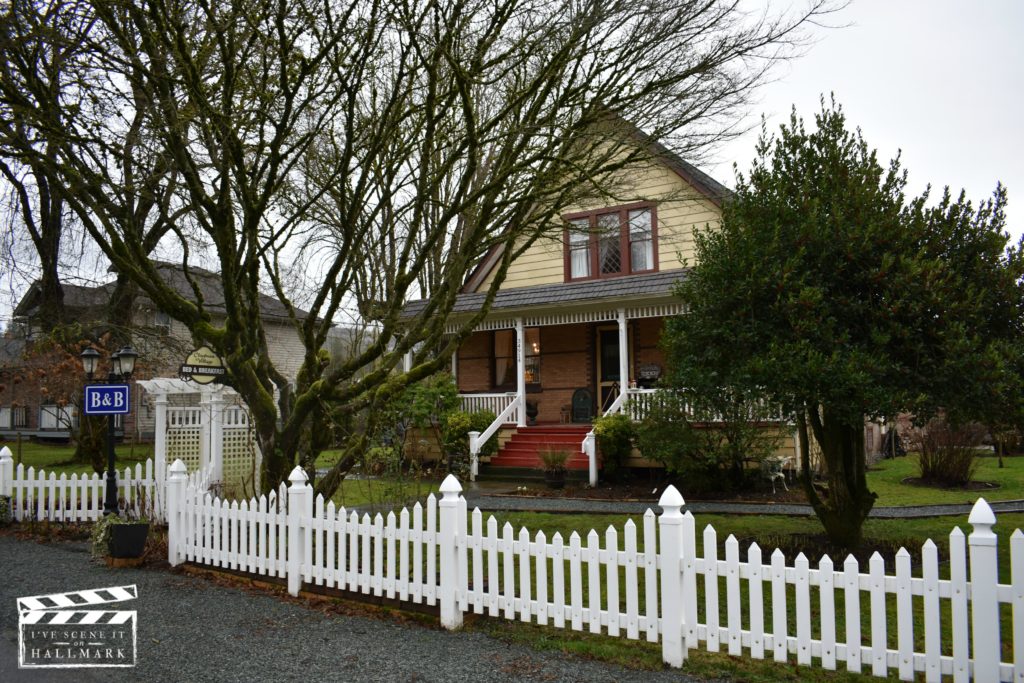 All of My Heart….what can I say.  We just can't seem to get enough of this one!  It's the movie that started me on this blogging journey and inspired me to create the All of My Heart tea towel.   Want one?  You can purchase yours here.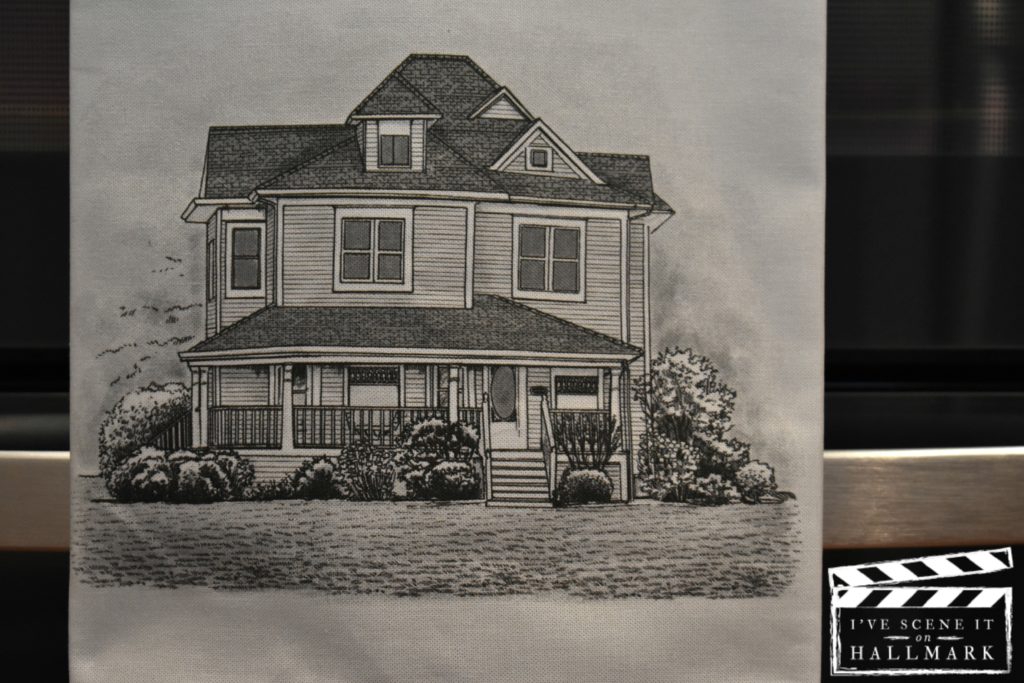 In honor of the DVD release of All of My Heart 2: Inn Love, I decided to write this week's post on Alice's house, which we got a little glimpse of in this highly anticipated sequel to All of My Heart.  And although it only scored a few minutes of air time, it is a lovely location that we've scene before in other Hallmark movies, and is definitely worth taking a closer look.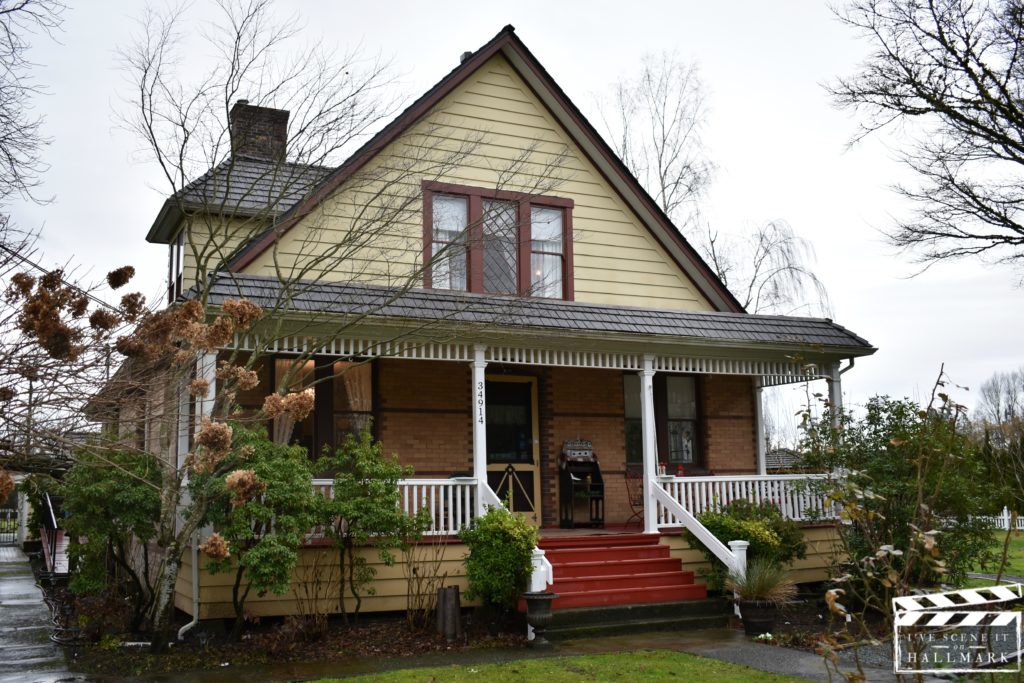 In real life, Alice's house is The Clayburn Village Bed & Breakfast in historic Clayburn Village, in the Abbotsford area of British Columbia.  If you are a regular reader of this blog and the Clayburn name sounds familiar, well, it should!  I wrote about the All of My Heart General Store, as well as the Real Murders Club Meeting Hall, both of which are in Clayburn. You may remember reading that there was once a brick factory in Clayburn.  It was just across the road from the B & B.
More on this area from the Clayburn Village Community Society:
"Clayburn is a unique, secluded little village situated in the shelter of the west side of Sumas Mountain.  The village and brick plant were founded in 1905 by Charles Maclure, son of John Maclure, a former Royal Engineer who settled on a government land grant two kilometers west of Clayburn. 
Reminiscent of a quaint English village with neat gardens surrounded by white picket fences, Clayburn was the first company town in British Columbia.  It supported three stores, a bank, a school, and a church. 
Samuel Maclure, Charle's brother, designed most of the brick buildings and became a noted architect, designing many outstanding buildings in the Vancouver and Victoria areas."
The Clayburn Village Bed & Breakfast is just down the road from the General Store and I reached out to the inn keepers for an interview.  They were very accommodating, and I thoroughly enjoyed our visit, as well as a tour of their beautiful home.  It was built in 1906 and was designed by Samuel Maclure.   Known as The Plant Manager's Home, Charles Maclure, the founder of Clayburn, lived in this house until 1909.
Today, it is known as the Clayburn Village Bed & Breakfast and is owned and operated by Ramsey & Leslie Oren.  Before purchasing the house, they lived in Abbotsford, where their children and grandchildren still live.  About 7 years ago, they decided to relocate and began the search for a place a little further out, something that offered plenty of space, a garden, and a workshop.  They hit the jackpot when they happened upon their dream home, although they weren't exactly sure what they would do with all the space once they moved in. Leslie tells me they bounced around a few ideas before deciding on the B & B.   I find it fascinating that the idea of a B & B came after they moved in!    They spent a chunk of time remodeling and refinishing the property and furnishing it with gorgeous antiques before opening the door to guests.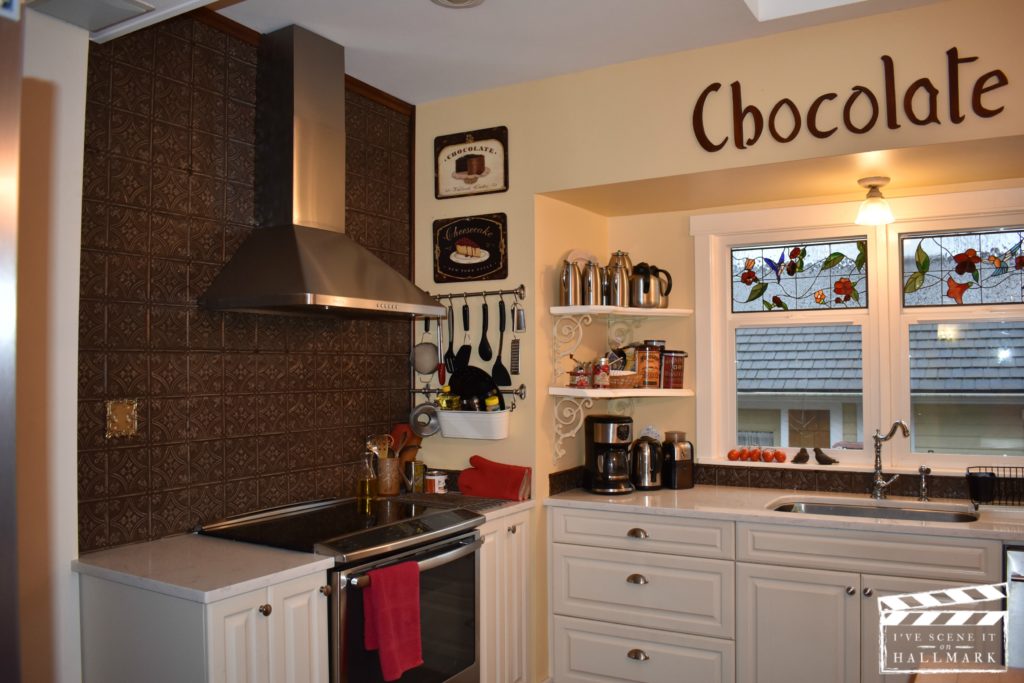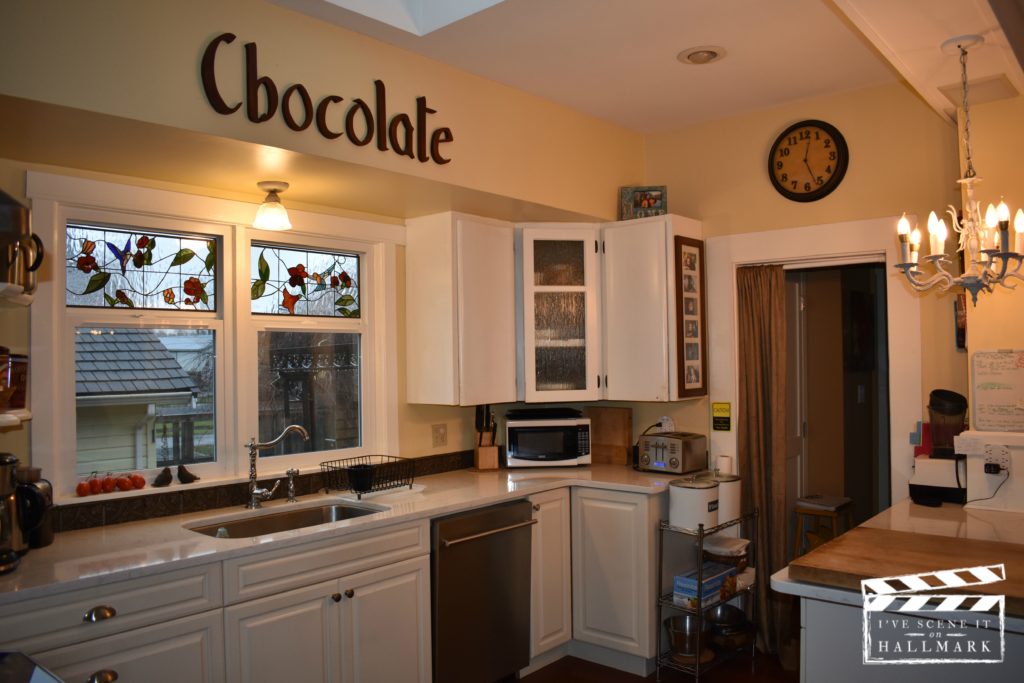 There was a learning curve in the beginning, but after six years, they have mastered their roles as inn keepers.  The busy season is from March until October, during which time they meet people from all over the world.  Through the winter months, things slow down a bit and they usually just have guests on the weekends.  They enjoy regular visits from their grandchildren and this grand home affords plenty of space for everyone to gather.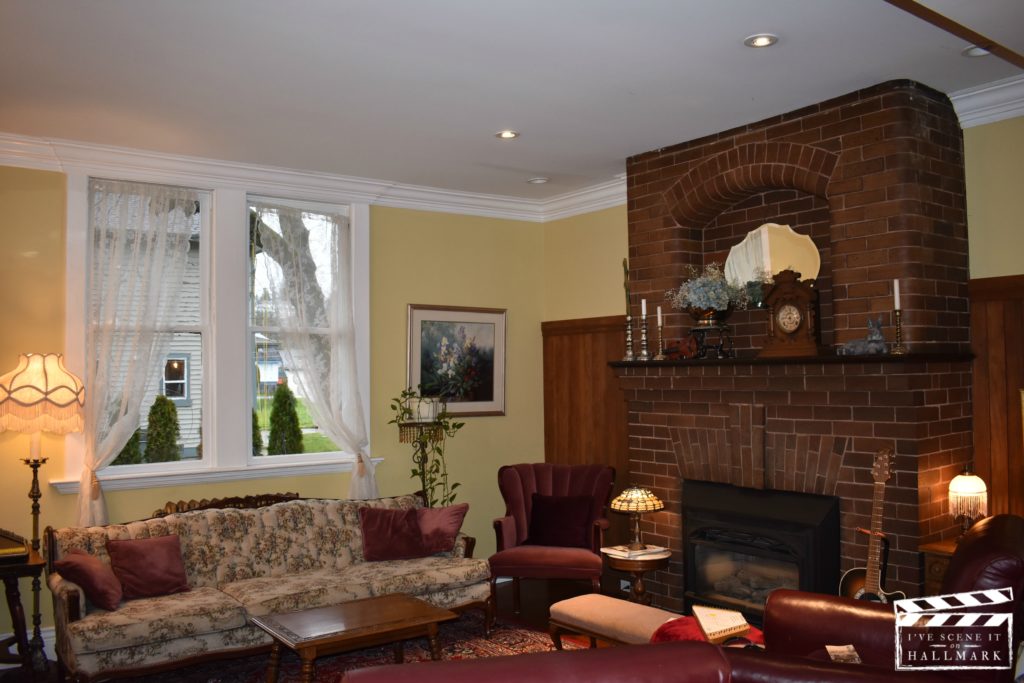 Ok, let's talk about filming.  Leslie shared with me that the first movie to film there was a Hallmark movie called The Christmas Gift.  I got WAY side tracked when I went searching for screen shots and discovered that a movie with that title was shot in Los Angeles, NOT Canada, which meant that in typical Hallmark fashion, the working title had been changed.   Desperate, I had to reach out for some help and I think I have solved this "movie-title-mystery".  My friends at WF told me that a movie with the working title of Santa's Gift shot around Clayburn in 2015.  This one was directed by Terry Ingram and according to his IMDB page, that movie is now called The Christmas Shepherd.   I remembered this movie because it starred Teri Polo, an actress I had met several years earlier at a show in Los Angeles.  (and yes, she is a total sweetheart!!!)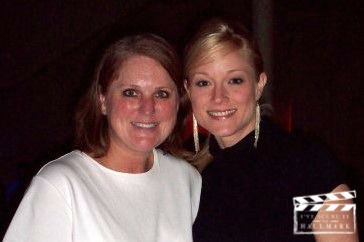 Of course, in order to know for sure, I had to re-watch the film and I have to tell you that I just loved seeing the familiar Clayburn Village on my screen, including the School House and General Store.   With a hobby like film locations, it is always so neat to discover other movies these familiar locations were used in.   I never did see the B & B in The Christmas Shepherd and after confirming the newly discovered title with Leslie, she told me she remembers they filmed outside the house, which would explain why I didn't recognize any of the interiors in the movie.  I did recognize another home but I'll save that one for another post.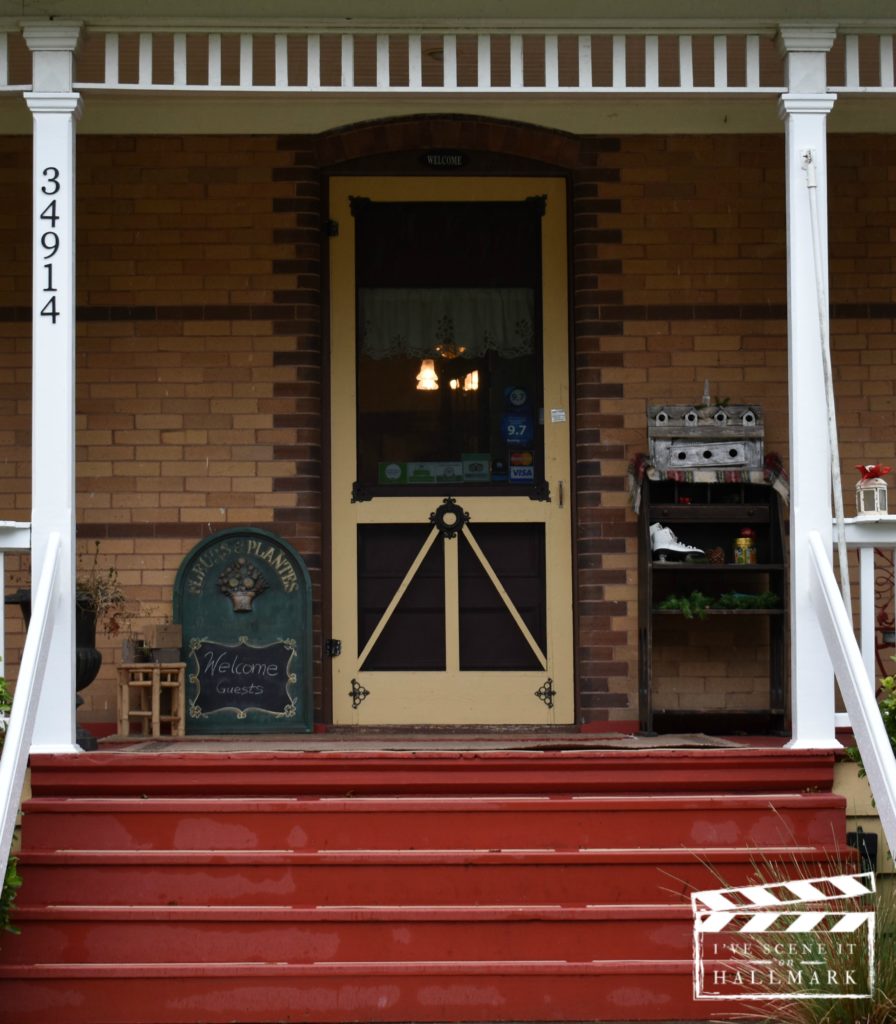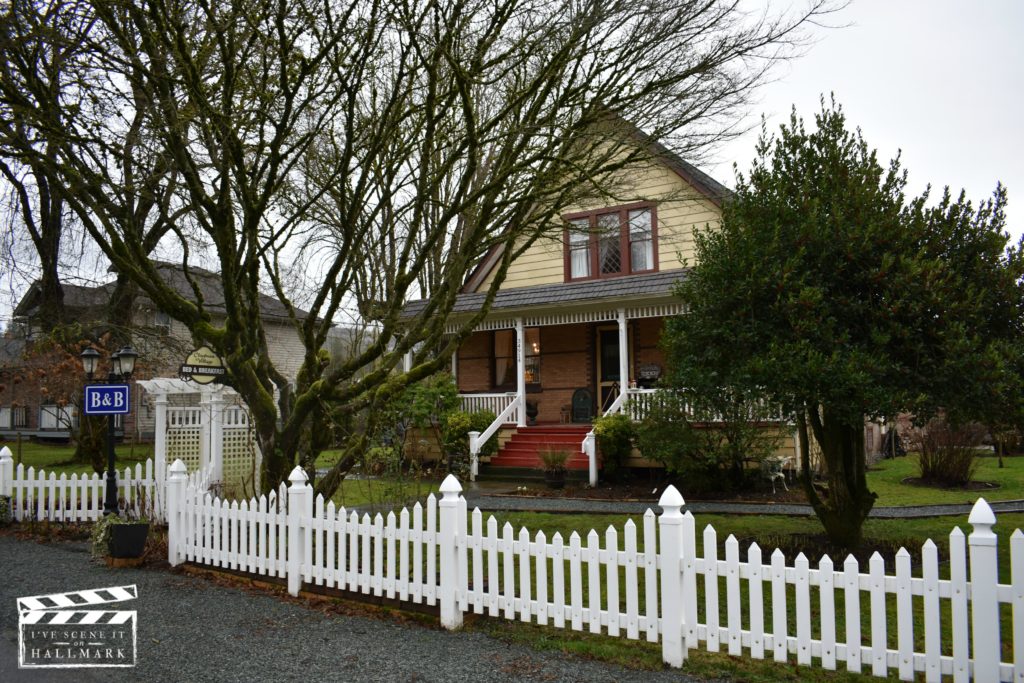 In addition to The Christmas Shepherd, other movies shot at the B & B include The Christmas Note, Aurora Teagardens Julius House, and  as I've already mentioned, All of my Heart 2: Inn Love.  Interesting fun fact: Terry Ingram directed ALL of those movies!
Leslie was an extra in The Christmas Note, in the big scene at the end of the movie where everyone gathers in the town center.  During shoots, she acts as liaison, staying around for filming and finds the process interesting.   And of course, she thinks it is exciting to see her home on TV.
While checking out the interior images below, take note of how many of the inn keepers very own items were used for filming!  For some reason, this part is always very exciting to me.  Equally thrilling is the fact that I sat in the burgundy chair seen in the Julius House screen shot, and the chair is rumored to have come from Balmoral Castle in Scotland.  And as a longtime fan of the royal family, this is most definitely not lost on me.
In The Christmas Note, the B & B stood in as Melissa's mothers apartment.
In The Julius House, the B & B played the Peachtree B & B where Melba Totino stayed.
In All of My Heart 2, the B & B was Alice's house.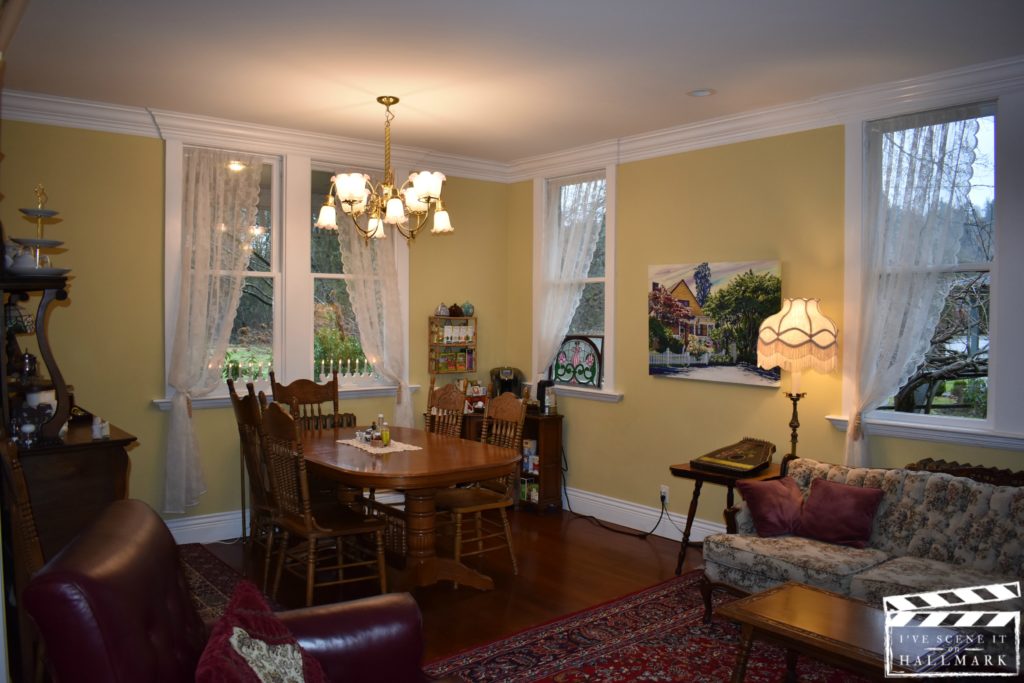 The Clayburn Bed & Breakfast would make a perfect getaway.   There are several rooms to choose from, even a guesthouse, all tastefully decorated and include your choice of a home cooked breakfast.  It is located at 34914 Clayburn Road in Abbotsford, BC.   For information and reservations, check out their website here and tell them you've scene it on Hallmark!  While there, be sure to try the scones for breakfast…I hear they are amazing.
Many, many thanks to Ramsey and Leslie for your time and for opening your lovely home to me.  It was a pleasure to meet you both!
Want to buy the movies or book?  Please consider purchasing through the links below, which help to support this website.  Thank you!!!
Thanks for stopping by today!  I will be back next week with another Hallmark location.